Goldman Sachs Bank Boss Sticks with Stockport
A small business in Stockport producing adhesive tapes and labels wouldn't normally be on the radar of Lloyd Blankfein, the chief executive of Goldman Sachs.
Among those Mr Blankfein is hoping to meet is Andy Southern, the second-generation business owner of Windmill Tapes and Labels, and one of the first participants in the small business programme run by the US bank.
Writing for The Sunday Telegraph with Lord Heseltine, Mr Blankfein says: "Small businesses such as Windmill Tapes and Labels play a vital role in driving growth and job creation in the UK. They already make a big contribution, but with the right help, can play an even bigger role."
Mr Blankfein says Goldman's scheme, 10,000 Small Businesses, began in America four years ago and launched here in 2010 in the Northwest, Yorkshire, the Midlands and London.
The programme is delivered by local experts – in Mr Southern's case, Manchester Metropolitan University Business School – and is aimed at giving leaders of SMEs the skills needed to drive growth.
"Even SMEs that do not grow can play a vital role in their local economies by providing important value-added services," Mr Blankfein writes.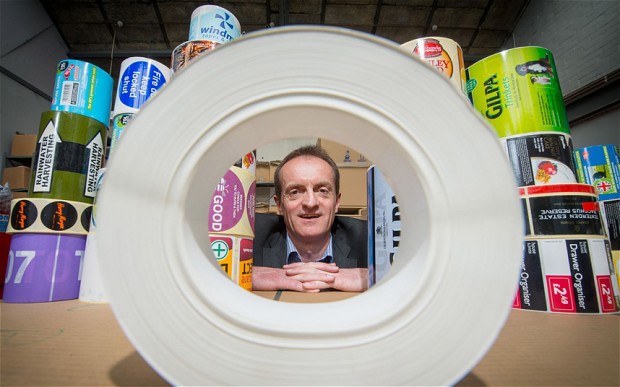 The Goldman Sachs scheme has been designed to tap into existing regional networks and work with local partners to help to build "local entrepreneurial communities".
By the end of this year, 600 businesses will have completed the programme, which has already led to 77pc of participants creating new jobs and 66pc increasing sales.
For Windmill, the experience gained on the three-month course has been second to none, explains Mr Southern, who is pleased that the banking giant has time for a "tiny business like mine".
Southern says the course helped him to develop a robust business plan and strategy for growth, which included a vital acquisition and saw his workforce grow from 34 employees to 50.
Windmill is building a new factory for its growing labels business and plans further investment in digital printing equipment. Mr Southern also hopes to revamp its website.
"We developed an entirely new growth plan as a result of being on the course," says Mr Southern. "There was a module on business acquisition and we highlighted this route as a good way of growing."
In December 2011, just after Mr Southern completed the course, Windmill acquired Commercial Label Products, helping the company to expand by almost 50pc.
Mr Southern, 50, who started working for his father's business 25 years ago, said the course provided the "fresh impetus" he needed. "Twenty-five years is a long time to be doing this job – I personally needed a kick up the backside," he laughs.
He also says: "I discovered CSR (corporate social responsibility). I never even knew what it meant before I went on the course."
He now encourages his staff to volunteer for local charity and community events, not only to foster "team-building and bonding" but also to give them "a bit of a day off".
Share This Story, Choose Your Platform!