New LT5C digital LED printer and Plotter Cutter
We've added a new LT5C digital LED printer with Plotter Cutter to our collection of digital presses. The LT5C achieves exceptional 600dpi print quality and is capable of printing on virtually all material types. The inks are robust with a high degree of lightfastness so on the right material they are suitable for external applications. This gives us exactly the right kit for very short run, high quality labels and for more robust weather resistant labelling.
When coupled with our new Plotter Cutter we are able to produce labels from scratch to any shape without the need for tooling thus keeping costs low and ensuring exceptionally quick lead-times.
We're delighted with the print quality and digitally plotted cutting means cut registration accuracy of 0.1mm. All in all we're really pleased with the investment which fills the gap for this particular market segment and ensures we are capable of competitively meeting all your digital label needs.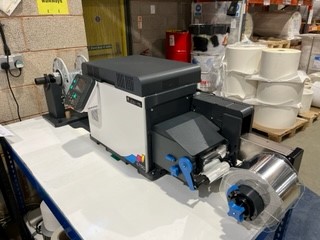 Share This Story, Choose Your Platform!