World's largest bottle of Whisky, it's official!
It's not often we can claim to have played our part in creating a world record but we can now. Customer Rosewin Holdings in partnerhip with Fah Mai Holdings, both alternative asset investment specialists, teamed up with Duncan Taylor Scotch Whisky to create the worlds largest bottle of Whisky.
Coming in at 311L the mega bottle smashed the previous world record by 83L. Made from a special blend of two cask Macallan malts the incredible bottle will go to auction later in the year. We can't claim to have made the label applied to the record breaking bottle but the remaining blend is intended to be split into 14 exclusive sets of 12 bottles each with their own unique label celebrating one of 12 world renowned explorers, hence the name Intrepid.
Each label is digitally printed with foiling and screen printed raised tactile varnish giving them an exclusive look and feel.
We congratulate Rosewin on breaking the world record and look forward to seeing our labels in situ over the coming weeks.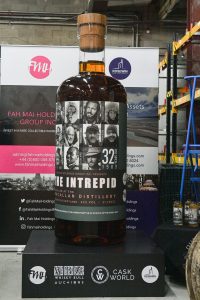 Share This Story, Choose Your Platform!