Rosewin Holdings record breaking Whisky!
It's not often we can claim to have played our part in creating a world record but we can now. Customer Rosewin Holdings in partnerhip with Fah Mai Holdings, both alternative asset investment specialists, teamed up with Duncan Taylor Scotch Whisky to create the worlds largest bottle of Whisky.
Given the nature of the project Rosewin Holdings wanted a special label to mark the occasion. The label design incorporated both foiled and raised tactile elements in order to create a very high quality look and tactile feel. The intricate foiling and screening was a challenge as they wanted the screen to drop around the foiled elements so registration on both passes was critical. The resulting labels were extremely well received by Rosewin.
In the end the record was broken and a 311L bottle of Whisky was produced and we congratulate Rosewin on breaking the world record and look forward to seeing our labels in situ over the coming weeks.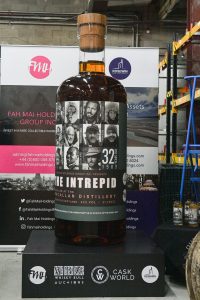 Conclusion:
We were delighted to play our part in a world record being broken but more importantly it was another demonstration for us of the benefits of working closely with our clients, gaining a deep understanding of their needs and ultimately delivering a solution which met their needs in full.
Share This Story, Choose Your Platform!